Review: Preppy: The Life & Death of Samuel Clearwater, Part One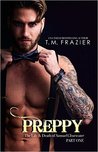 Preppy: The Life & Death of Samuel Clearwater, Part One by T.M. Frazier
My rating: 5 of 5 stars
"Life's too short to pretend to be anyone else. I'm just me. I say what I want to fucking say. I do what I want to do and I don't fucking apologize for it."
That my Lovelies is not only Preppy.. that is T.M. Frazier!!! OMFG!! PREPPY!!!!!!!!
This book about made me die… everything in it… the pain.. the past… the present… the PREPPY!
But the end… whoah on a mother fucking cracker!!! Died!!!!
Should have known… I mean the freaking title has Part ONE.. right??!! But NO! I didn't even give it pause.. I thought, "my girl.. T… she's got me… she wrote this one for us… her loves… her loyal fucking fans!
But NOOOOOO!!! she – I say what I want to fucking say. I do what I want to do and I don't fucking apologize for it."
Yeah.. that's right… my girl T… she meant it… and I paid no heed to it…
But I digress… this.. is the WOW!!! THIS IS WHAT YOU NEED TO READ NOW!!!
Check out all our reviews at http://bit.ly/2akqPZQ