Review: Down Shift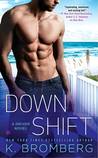 Down Shift by K. Bromberg
My rating: 5 of 5 stars
OMG!!!! K. Bromberg Gives us "Zander's" Story!!!!
Oh how little Z stole my heart in the Driven series. Such a broken little boy, who was in so much pain until Colton appears in his life and gives him his voice! His tortured soul was loved and cherished by Colton and Rylee, and I just knew his future was bright! But the pain that darkens your heart and soul, never really goes away, and Z definitely has to battle his demons before he loses everything!
This story was beyond beautiful. I read it in one sitting and I just loved everything about it.