The Law Of Moses by Amy Harmon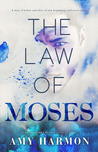 The Law of Moses
by
Amy Harmon
My rating:
5 of 5 stars
I have been digesting this book for a few days now.. and I just have to say how disturbingly beautiful this story is. It has such a haunting quality to it... it is beyond original.. heartbreaking, and heart reaffirming.
I don't want to give ANYTHING away... it is just one of those stories that you have to submerse yourself completely in, and let it wrap its cold, and its warmth around you.
just loved it... wish i could erase its memory from my mind and re-read it!!
View all my reviews
I was lucky to have met Amy just a few short weeks ago... I knew there was a huge buzz about this book... but i just held out a bit to read... I wish I had read it prior to meeting her... I would have soooooo Fangirled and just gushed about it!!